Biography
POSITION
CEO of RADiUs Architects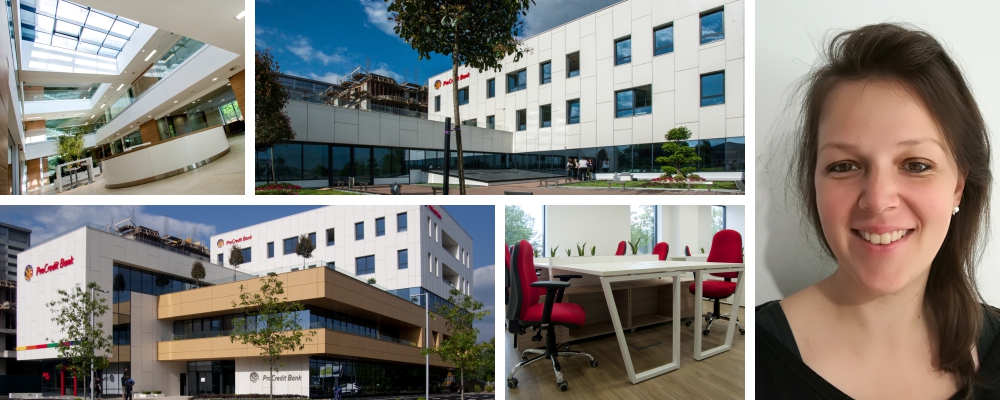 PRESENTATION
HEADQUARTERS OF PROCREDIT BANK MACEDONIA
"The New Headquarters of ProCredit Bank" in Macedonia is a building for modern time: transparent, flexible and dynamic.
project: ProCredit Bank Headquarters
location: st.Manapo, Skopje
authors: arch.Martin Panovski, arch.Jana Gugulovska,
arch. Dushica Dinovska, arch.Alekdandar Naumcheski
collaborators: arch.Tijana Kaevska, arch.Ana Urumovska
company: RADIUS architects
client: ProCredit Bank AD Skopje
designed: 2014-2015
constructed: 2015-2016
The building itself with 6000sqm provides comfort environment for the employees as well as the clients. There are several characteristics that can describe the building such as: dynamics and availability, disposition and openness, transparency and flexibility, functionality and comfort.
BIOGRAPHY
About the studio
RADiUs Architects is an architectural office, founded in Skopje 2012 by Martin Panovski, Alexander Naumcheski, Jana Gugulovska and Dushica Dinovska, four prominent and award-winning architects. The team is driven by the need for a sensitive and responsible development of the physical context in which people live. Radius architects have been involved in interdisciplinary architectural projects commercial, residential, educational, medical, industrial and recreational use to the design of public spaces and interiors. Currently the office staff is engaged with the work on several designs in the Republic Macedonia. Radius architects have been actively involved in architectural and cultural discourse in Macedonia and in the Balkans, having taken part in public debates, exhibitions, research and publications organized or initiated by the Association of Architects of Macedonia, the Macedonian Biennale of Architecture, the Skopje Design Week etc.
About the speaker
Education:
2015 – 2016 Master in Architecture, Faculty of Architecture Ss. Cyril and Methodius University- Skopje, R. Macedonia
2000 – 2006 B.Sc. in Architectural engineering Faculty of Architecture Ss. Cyril and Methodius University- Skopje, R. Macedonia
Work experience:
2012 – On going RADiUs architects doo Skopje Position: Founder / CEO
2008 – 2012 Studio2000 dooel Skopje Position: Chief Architect
2006 – 2008 Studio2000 dooel Skopje Position: Architect
Additional professional engagements
2012 Member of the Chamber of evaluators in R.Macedonia
2009 Member of the Chamber of authorized architects and engineers
2006 Member of the Association of architects of Macedonia-ААМ
Key references:
2012 – 2016 at RADiUs architects
– Family house in Vlae, Skopje / 280m2 / 2017
– Family house in Sopiste, Skopje / 250m2 / 2017
– Interior design of hotel Park Stip / 1800m2 / 2017
– Residental complex Stip / 18000 m2 / 2017
– Yellow stage, City park Skopje / 2016
– ProCredit Bank branches, interior design – Skopje, Kumanovo, Ohrid… / 2015…
– Office building ProCredit – Skopje / 6200 m2 / 2014
– City shopping mall – Shtip / 2700 m2 / 2014
– Apartment building St. Petka – Skopje / 880 m2 / 2013
– Hotel resort Bela Voda – Berovo / 3700 m2 / 2013
– Service and Vehicle inspection center "Automakedonija" – Skopje /3200 m2 / 2012
– Car Showroom Elektrometal, interior design – Skopje / 4000 m2 / 2012
2006 – 2012 at Studio2000
– Office building Sectron – Skopje / 1100 m / 2011
– Special Surgical hospital "PHILIP THE SECOND" – Skopje /19000 m / 2011
– Residential and business Building "Vancho Prke St.", Shtip /3000 m / 2011
– Residential and business Building "Leninova St.", Strumica /8000 m / 2010
– Residential and business Complex "Cvetan Dimov St.", Strumica /16600 m / 2010
– Residential Complex "Tochila", Prilep / 5100 m / 2010
– Gas stations "GS Ilindenska 070" and "GS Belimbegovo" – Skopje /2008/09
– Outbuilding a Spa center at "Hotel Makpetrol" – Mavrovo / 1000 m / 2009
– Energy facility "Skopje Fair" – Skopje /1800 m / 2009
– Residential Building "Racha", Ohrid /3800 m / 2008
– Business Center ERA City- Skopje /48000 m / 2007
– Residential Building "Mara Pockova", Strumca / 8600 m / 2007
– Hotel with business content, Ski resort "Kozuf" /10000 m / 2007
– Residential Building "Rasadnik 1", Skopje /3500 m / 2006
– Residential Building "Rasadnik 2", Skopje /3500 m / 2006
AWARDS
Special award of the 18th Biennale of Macedonian architecture for project of Headquarters of the ProCredit bank in Skopje, Macedonia
Annual grand award "Building of the year 2013" in Macedonia for the project Office building Sectron in Skopje, Macedonia
II award on an International competition 2007
MACEDONIAN FHILHARMONY
III award on a competition 2010
Collective housing – "Army of Republic of Macedonia my home"
III award on an International competition 2016
City hall Ohrid
I award on an International competition 2017
Prking garage in Ohrid
All sessions by Arch. Jana Gugulovska